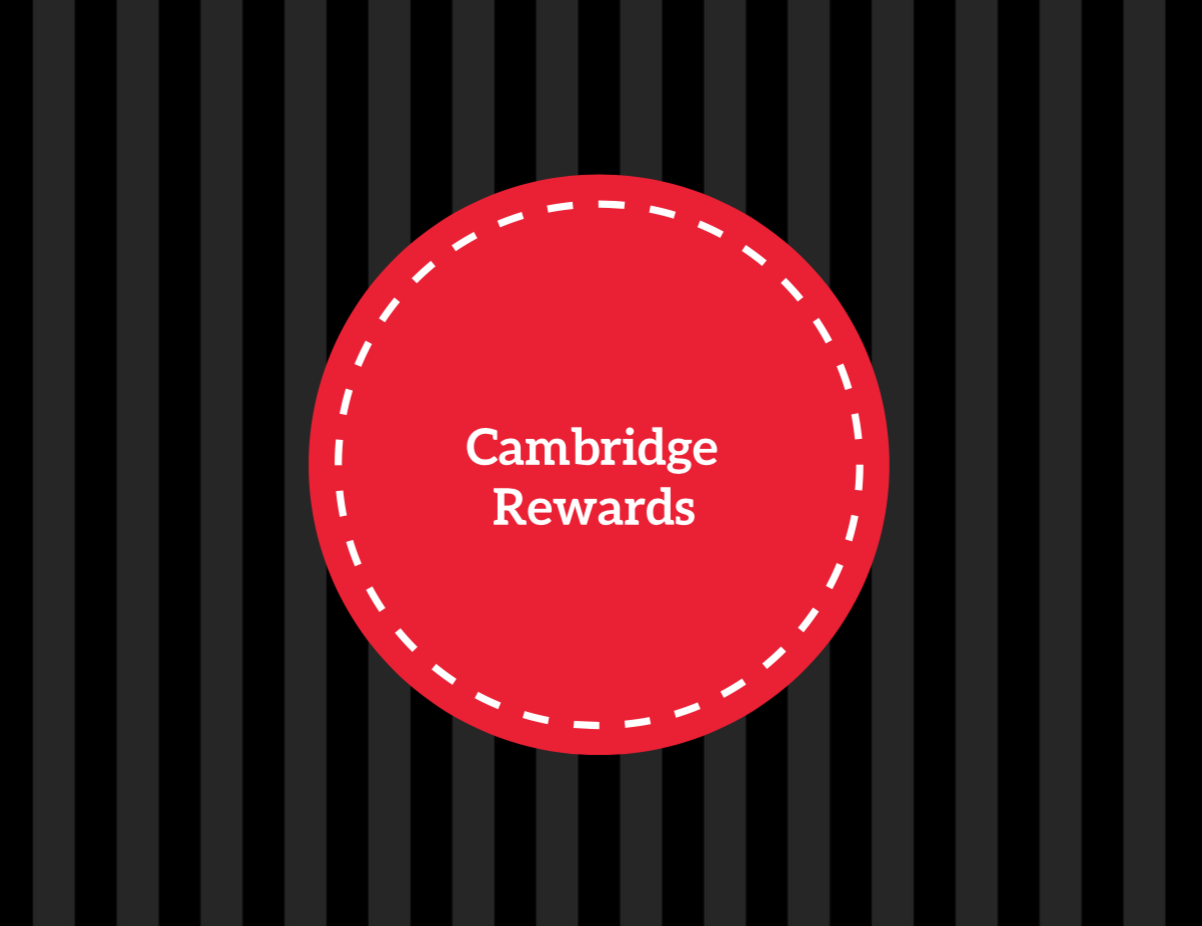 Joining Cambridge Rewards
There are two ways to join the program.
1. Ask an associate at checkout to enroll you in the program. It is free and only takes a minute.
2. Visit Cambridge Rewards and follow the instructions to register.
Managing/Using your points
Log in to your rewards profile to manage your points and contact information. All rewards will be emailed to the address on file. 
To redeem a reward simply present a reward email to the cashier or kindly ask them to check your profile for any unused rewards that may apply. 
Terms of Use
The Cambridge Rewards program is intended for personal use only. Commercial use is prohibited. This program is not targeted towards, nor intended for use by, anyone under the age of 21.
There are no membership fees associated with Cambridge Rewards. Points accumulated under the program are promotional and have no cash value.
Your rewards and your account under Cambridge Rewards are personal to you and may not be sold, transferred or assigned to, or shared with, family, friends or others, or used by you for any commercial purpose. You may have only one (1) Cambridge Rewards account that is personal to you.
Without notice to you, Cambridge Wines reserves the right to suspend or terminate your account and/or your participation in Cambridge Rewards if Cambridge Wines determines in its sole discretion that you have violated these Terms of Use, you have more than one (1) account, or that the use of your account is unauthorized, deceptive, fraudulent or otherwise unlawful. Cambridge Wines may, in its sole discretion, suspend, cancel or combine accounts that appear to be duplicative. In the event that your participation in Cambridge Rewards is terminated, then all accumulated points in your account are void.
Cambridge Wines reserves the right to terminate, discontinue, cancel or change the rewards program at any time and in its sole discretion without notice to you.
Restrictions
Due to New Jersey State Law no product may be sold below "cost". In order to redeem your points, each transaction must abide by NJ ABC regulations and state law. At the point of sale, Cambridge Wines reserves the right to deny the use of rewards if the transaction does not follow ABC regulation and laws. 
Points earned through transactions online may only be redeemed for "in-store" purchases. 
Only one reward may be used at a time. Offers may not be combined.
Offers are not valid on items "on sale" or deemed "non discountable".